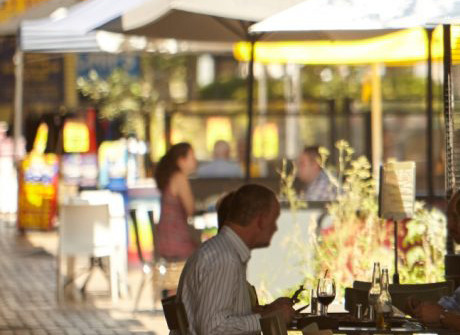 TOP 3 reasons why we have to support our local businesses:
Cycle a much larger share of revenue back into the local economy, enriching the whole community.

Help build a stronger community by supporting local causes and groups.

Create more jobs locally and may provide better wages and benefits than franchise chains do.
The Retail Dilemma
"Over the past 15 years there has been a seismic shift in retail and the customers retailers serve, the customers are now in the driver's seat and they crave authenticity, newness, convenience, excellent service and creativity. The customer is increasingly looking for "experience not just stuff" and doing this at any hour of the day and through multi -channel platforms…
The B.E.A.R Program was designed to engage and work with both community and retailers of Sunbury to develop a plan to meet this challenge and create a healthier and stronger local business environment into the future."
(Excerpt from 'Mystery Shopper Report', Hume City Council, 2017)
The B.E.A.R. report states that a majority of businesses interviewed indicated that most of their customers come from Sunbury, with smaller numbers drawn from surrounding areas. Very few indicated online sales to other parts of Victoria and interstate (Q10).
'Small size of local market', 'not enough customers', 'uncertainty of customer loyalty' and 'small catchment area' were also widely cited as major constraints to expansion (Qs13,14). High rent was identified as both a disadvantage and a constraint. Many respondents indicated, for the reasons identified above, that they have contemplated closing, selling or moving their businesses.
Respondents acknowledge that some aspects of their businesses are suffering that could be otherwise critical to their success (Qs 27-35). For example, 72.2% of respondents indicated they don't have a written marketing strategy. 72.2% have a website though not all update it regularly. Most have a social media presence but feel it needs more attention than they can give. 55.5% of the businesses currently sell online. The business owners give the impression that, while they know the importance of visual merchandising, social media, online sales, business and marketing planning, prioritising these aspects is difficult, as they manage the bricks and mortar realities of meeting costs and remaining viable.
The mystery shopper report supports these findings, indicating room for improvement in the key areas of: customer service, store appearance and merchandising. The report also found that customer service is strained and focused more at the checkout. Most businesses would welcome offers of assistance (Q18). They consider 'social media', 'marketing your business', 'greater community support' and 'cash flow' to be most useful in helping their business improve performance over the next 12 months. 'Digital strategy', 'employing and keeping the right staff', 'new products' and 'visual merchandising' were also identified.
Most of the businesses asked for information regarding general marketing strategies, online marketing' and business funding programs.
In 2018, Sunbury Business Association ran the inaugural Bendigo Business Expo for our business community, a unique opportunity to come together and showcase their businesses to 100+ attendees. In addition to building on brand awareness; sponsors and attendees established new business partnerships and networked with industry experts.
Three workshops were held to meet the needs of local businesses seeking the above information :
Social Media: "How to beat your competition in 2019 by tapping into the power of social media, content marketing, influencer marketing and branding." presented by Alana Joynes, Xpozur.
Customer Experience: "Wowing the customer builds the organisation's reputation and overall brand. Employees will not always understand this; therefore, it is IMPERATIVE that management challenges employees and coaches them to a level beyond what they're willing to do." presented by Jo Mccomiskey, The Bedspread Shop.
Visual Merchandising: "Shore Up Sales With High-Converting Product Displays. Your retail space has to be your most productive & most efficient salesperson. Visual merchandising employs the art of optimising your retail store & product displays for maximum revenue." also presented by Jo McComiskey
In 2020, Sunbury Business Association will run their 2nd Business Expo at the new HCC Global Learning Centre in Sunbury and build on what we learnt from the last Expo to create a new and improved experience with greater reach and engagement.