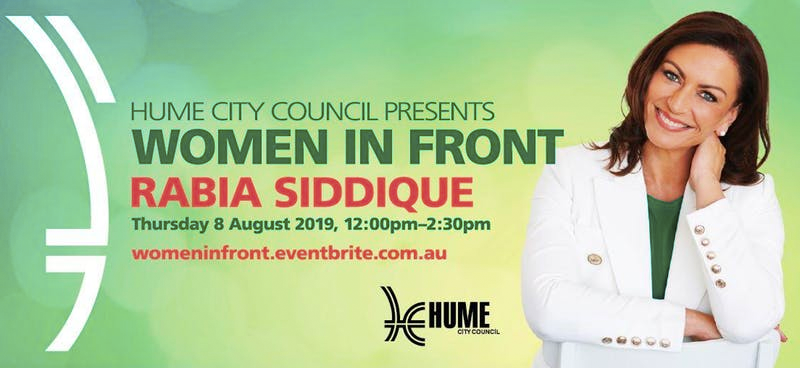 Rabia Siddique – Woman. Lawyer. Mother. Soldier. Hostage.
International humanitarian, speaker, best-selling author Rabia Siddique will be our very special guest speaker at this year's Women in Front Networking Lunch.
THE COURAGE TO SET YOURSELF FREE
We live in an exciting, challenging, volatile, dynamic world.
As a planet we are so well connected, but as communities and individuals we feel overwhelmed, disengaged and alone.
We don't have a choice about many events in our world, but we have a choice about how we react to events we can't control.
Life is a choice. We can choose to be victims of our circumstances, believing that we cannot change what seems overwhelming.
Or, we can choose to adapt, thrive, learn and lead the change that we are all capable of.
A former war crimes and terrorism prosecutor, international humanitarian, retired British Army officer, hostage survivor and mother of triplets, Rabia's story of courage, strength and resilience, and her commitment to truth, justice, equality and authentic leadership will inspire and motivate you.
In her compelling presentation, Rabia provides the tools to empower and free you from what is holding you hostage, enable you to display the courage under fire you need to become the best version of yourself – an ethical and effective leader, and an agent for change.
An inspiring, entertaining, and emotional keynote address not to be missed.
Meadowbank Estate, 1 Eldon St, Campbellfield
Thursday 8 August 2018
12:00pm – 2:30pm
Bookings close Monday 5 August 2019
BOOK NOW
Tickets include canapés, a two-course lunch, wine and drinks, along with excellent opportunities to connect with other businesses. Bring along your business cards.