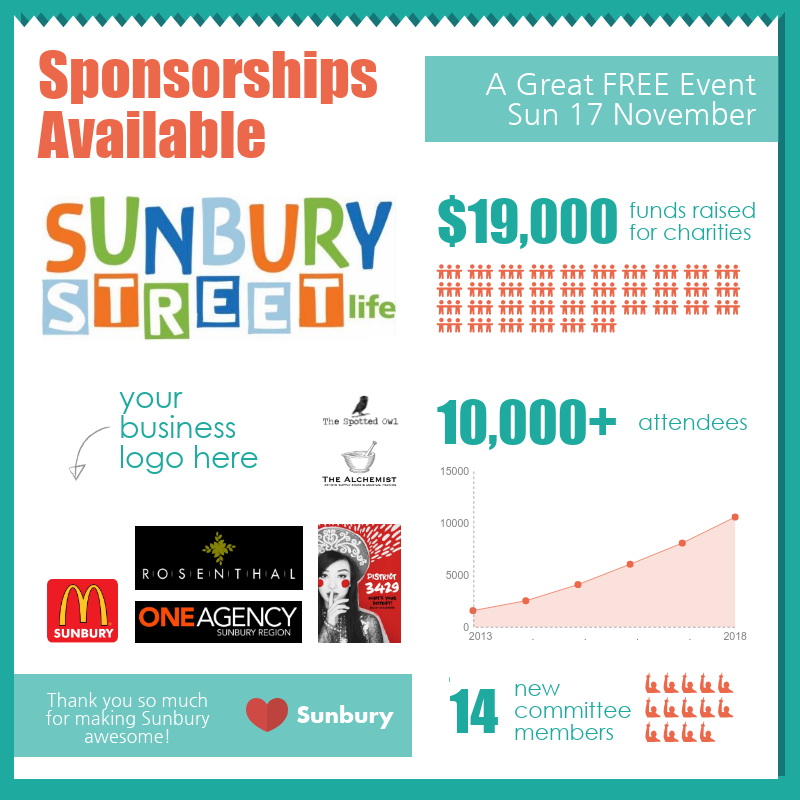 Show your goodwill to the Sunbury community.
Sunbury StreetLife Festival is a great annual community event held in Sunbury in November each year.
It is a FREE event focused on promoting Sunbury businesses.
Due to lack of numbers and sponsors we didn't think the event could run this year… However after a call out, a great return of over 14 committee members signed on. These guys don't want to see this street fair close and are pushing to get it running this November – Sunday 17th.
But some more great sponsors are still desperately needed to sign on and show their support. Without this sponsorship – the festival may disappear completely.
3 different levels of sponsorship are available with a great range of benefits, one of the most important beinggoodwill shown to the community!
By joining us, we can continue to bring the local and surrounding community a great avenue to meet and celebrate "Local" together.
Our desire for the "Sunbury StreetLife Festival" has always been to remind people how Sunbury is a prime shopping location and a fantastic area for tourism. We want to showcase our amazing local businesses and showcase Sunbury!
Over the past 6 years the growth in attendance has seen a increase in numbers from approximately 1500 to 10,000 and possibly more. Each year, the event raises funds to donate to a variety of local charities, so far, that amount is approximately $19,000.
If your business would like to participate in this year's event, please see the attached information and contact Sharyn Snook by email homegrowneventsvic@gmail.com or call 0418 403 346 at your earliest convenience. We would like to make sure you get as much benefit as possible for as long as possible so we will need to know before the end of July – so we can get started and make this years StreetLife festival the best yet.
We would love to have you join with us in running StreetLife 2019 and believe that it would be great promotion for your business and fabulous for the Sunbury and surrounding community.
SPONSOR OPTIONS
PLATINUM SPONSOR OPTIONS
SPONSORSHIP APPLICATION 2019